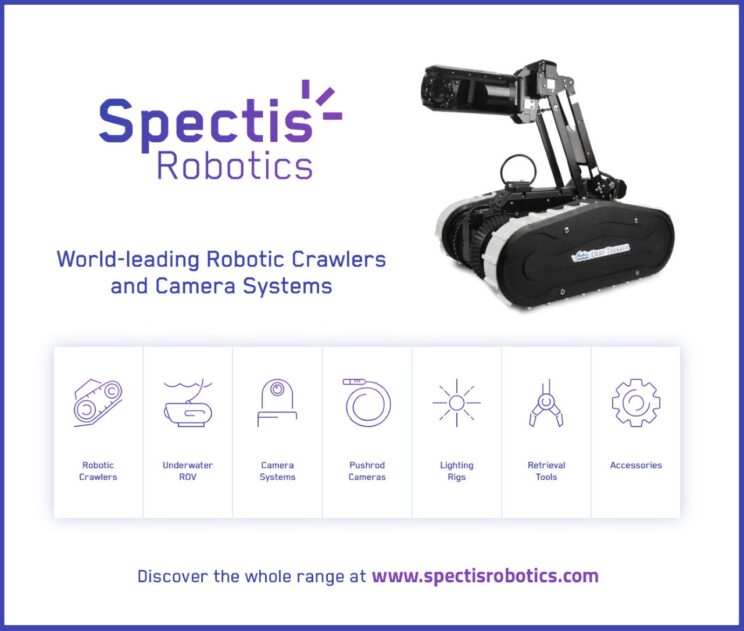 Spectis Robotics are suppliers and developers of remote inspection equipment, including robotic crawlers, remotely operated vehicles (ROVs) and industrial inspection cameras. For over ten years the Spectis family of products have continued to push the boundaries of what is possible. These remote inspection solutions are available to purchase and rent, and can be used to remove or reduce the need for manned confined space entry in many industrial environments. 
Choosing the most suitable equipment is critical in ensuring a successful inspection. Spectis works closely with its customers to supply equipment that will meet the inspection requirements. Crawler vehicles have become increasingly popular for the inspection of small and/or confined spaces, and there are multiple choices and configurations available.
Spectis can supply- utility crawlers, waterproof crawlers, magnetic crawlers, pipe crawlers, wireless crawlers, vertical crawlers, and radiation tolerant crawlers. Robotic crawlers are great for situations where long distances need to be travelled to complete an inspection, or hard to reach areas across all industrial and manufacturing applications.,
The use of robotic crawlers ensures the safety of all personnel by reducing manned entry into hazardous or difficult to reach locations, and the information provided by the crawler can be used in many ways. Voids, plenums, tanks, containers, vessels, shafts, pipework, culverts, box girders, and confined spaces can all be inspected using the right crawler system. Robotic crawlers are used widely to complete Remote Visual Inspections (RVIs) in many different industries, including oil and gas, civil, aeronautical, energy, mining, and utilities.
For fully submerged inspections, one of Spectis' underwater ROV's may be the solution. Our ROVs include high quality cameras and powerful lighting, that ensures an underwater inspection is made easy for operators. As well as being extremely portable, the underwater ROVs themselves are extremely mobile making deployment and movement simple. Spectis Robotics have a number of submersible ROV's available to rent, with varying depth ratings and additional equipment options. Although heavily used in the oil and gas market for underwater inspections, ROVs are now being used for onshore inspection of storage tanks, pipework, fish farm (aquaculture) netting and fish condition, and for search and rescue missions.
We also supply remote camera systems, suitable for deployment into difficult to reach, or hazardous areas, but also into other environments such as aquaculture. Many of the products are pan tilt zoom (PTZ) cameras, which means they are able to rotate and zoom in any direction. Our line of pushrod cameras can be used for pipe, cavity, turbine inspection and more.
Lighting can also be supplied in order to further illuminate the surrounding environment that is being investigated. We can provide radiation tolerant LED lighting that can be used in many different situations such as in storage ponds, in cell or even for general use in an active area.. One of the products (VT 123 LED Lighting) has the capability to be added to grippers or ROV's to provide them with extra light.
The final type of products that Spectis specialise in is Retrieval Tools. These products are used for safe removal of debris and foreign objects from any environment. There are two classes of retrieval tools;Vacuum and Gripper. The vacuum system can be used underwater for the removal of small foreign objects and debris in nuclear environments, such as storage ponds and pressure vessels, whereas the gripper can be used for larger objects in dry or wet conditions.
Visit Spectis Robotics 'products' on the website for more information: www.spectisrobotics.com